[caption id="attachment_1172" align="alignleft" width="300"]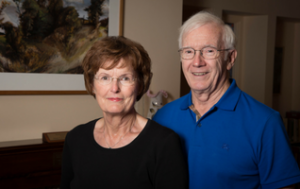 Dr. Phillip and Betty Baker[/caption] Over the years, Dr. Phillip and Betty Baker have realized the library was a good resource. "We use the resources of the library and like the staff. We decided the library gave us so much we wanted to give back," stated Dr. Baker in a recent interview. It was in 2007 the Baker's made a gift for the genealogy center.
The Dr. Phillip and Betty Baker Genealogy Center
is located in within the
Topeka Room
on the second floor of the library. The entire area is set aside as a space to focus on research. Dr. Phillip Baker, a retired orthopedic surgeon, has always liked history and is working on their families' history. He has already written several volumes which include biographies, photographs and captions. His books are registered with the Library of Congress and are copyrighted. Betty, a retired teacher, loves reading and is currently a member of two book clubs. According to Phil, it was Betty who was the driving force to make readers of their family. She passed her love of reading to their children and now their grandchildren. Betty brings her grandchildren to the library because she knows "it broadens their vocabulary and opens their eyes to the world." In 2009, the Baker's joined the foundation's planned giving program, the
Edward and Mary Wilder Society
. The Baker's decided they wanted to leave an estate gift to support the genealogy center. The planned gift will ensure the programs, resources and services of the library for the genealogy center will be available for future generations to depend on and enjoy.