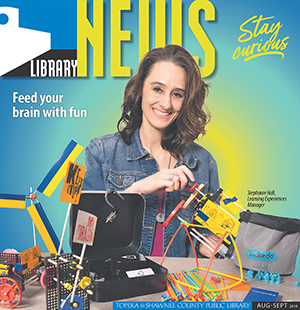 Her family chose to have memorial funds sent to the Library, honoring her legacy by benefiting the community and work she so loved. The Library Foundation Board of Directors has approved for these donations be utilized to create the Stephanie Hall Fund for Sneaky Learning.
Stephanie loved that people could learn things while having fun. "Who says learning has to be boring?"
She enjoyed working with kids who would come in after school. They would often ask her "What if I do this?" And she would say "I don't know, you should try it and see." Sneaky learning is just that…try it and see. The kids don't realize they are forming hypothesis and testing them and then going back and tweaking it….they just think they are having fun.
Through Stephanie's service on the Staff Development Day committee, she ensured that it wasn't just the kids who where having fun. "Learning doesn't have to look like learning."
Her enthusiasm for learning and give it a go attitude made her the perfect person to serve our community as a leader.
The fund will serve the community through benefiting staff training and/or any of the Topeka and Shawnee County Public Library's public programming that can be deemed as sneaky learning.
What is sneaky learning?
Sneaky learning feels and looks like play to the outside observer, but skills and lessons are being learned through play and fun.
*Be sure to check the box as a memorial/tribute and type in Stephanie's Name or you may mail your contribution to:
The Library Foundation, 1515 SW 10th St., Topeka, KS 66604