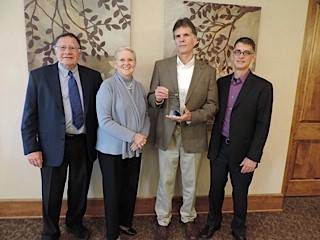 After being nominated by The Library Foundation, The Redbud Foundation was honored as outstanding local philanthropic foundation at the recent Topeka Chapter of the Association of Fundraising Professionals (AFP) National Philanthropic Day luncheon. On Friday, October 9, Topeka celebrated 2015 Philanthropy Day by honoring the Sabatini Family Foundation as Outstanding Foundation. P
ictured here are Frank & Judith Sabatini, Matt Sabatini and Dan Sabatini with their award.
The Sabatini Family Foundation was nominated by The Library Foundation for its continued support of the Topeka and Shawnee County Library's Alice C. Sabatini Gallery along with funding the annual art show devoted to children and an outreach enrichment program targeting at-risk children.
National Philanthropy Day® is a special day set aside to recognize and pay tribute to the great contributions that philanthropy—and those people active in the philanthropic community—have made to our lives, our communities and our world.