The Leaves in the Atrium donor recognition wall has taken on a different look than the earlier individual leaf motif displayed in the youth services wing of the Topeka and Shawnee County Library.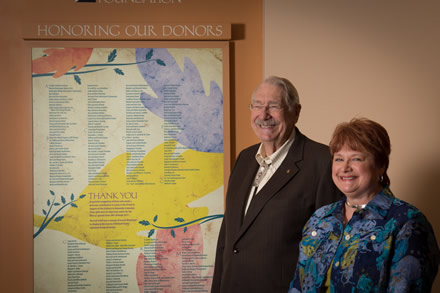 Dr. Walt Menninger and Library CEO Gina Millsap. Now the names of donors who made gifts of $1,000 or more to The Library Foundation between 2001-2013 are in two beautiful backlit displays and located in the library's Robert M. & Hazel F. Lingo Rotunda. Just as a tree requires a continuing source of sustenance to grow, so does the library. That was the concept behind the Leaves in the Atrium display designed by Connie Menninger and Michael Graves and Associates as part of the "A Library to Remember" campaign.
Contributions are an essential source for the library's growth, and they strengthen our ability to make a positive, significant impression in our community. It is important we take time to say thanks to all those who made gifts and to recognize those contributors. We hope you enjoy looking at the new donor recognition panels. Plans are being made for a new donor recognition program that will include donors of the past as well as those who are currently making donations.
Please contact us to find out more about Named Giving opportunities.