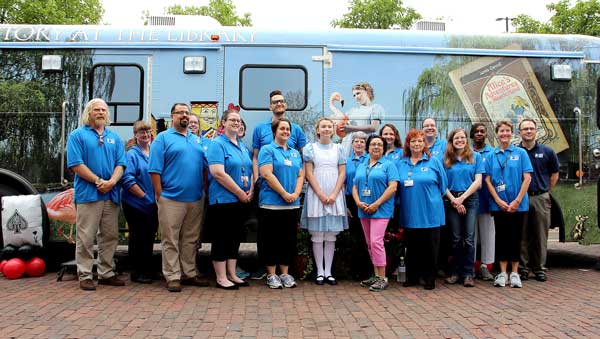 Alice from Alice in Wonderland joined Foundation board members, library supporters and staff on June 3
rd
to reveal to the public the new bookmobile, "Alice". The purchase of this bookmobile was made possible by The Library Foundation as a result of a generous estate gift of the late Hugh and Margaret McCausland. Alice, played by Abby Musick of Topeka Civic Theatre and Academy, was part of the ribbon cutting with Foundation Board chair Becky Holmquist, Topeka and Shawnee County Public Library CEO Gina Millsap and Friends of the Library chair Linda Hayse. The bookmobile storyscape was created by pictures taken of Alice in the beautiful Ted Ensley Gardens at Lake Shawnee, courtesy of Shawnee County Parks and Recreation. After the ribbon cutting, the public was encouraged to step into the new bookmobile to not only look around but also check-out something from the all-new materials in the bookmobile. Hugh and Margaret McCausland were instructors at Washburn University and upon retirement became very involved with the Friends of the Library book sale. After they had worked the sale a couple of years, Margaret was asked to chair it and Hugh became her assistant. They volunteered in this capacity for a number of years.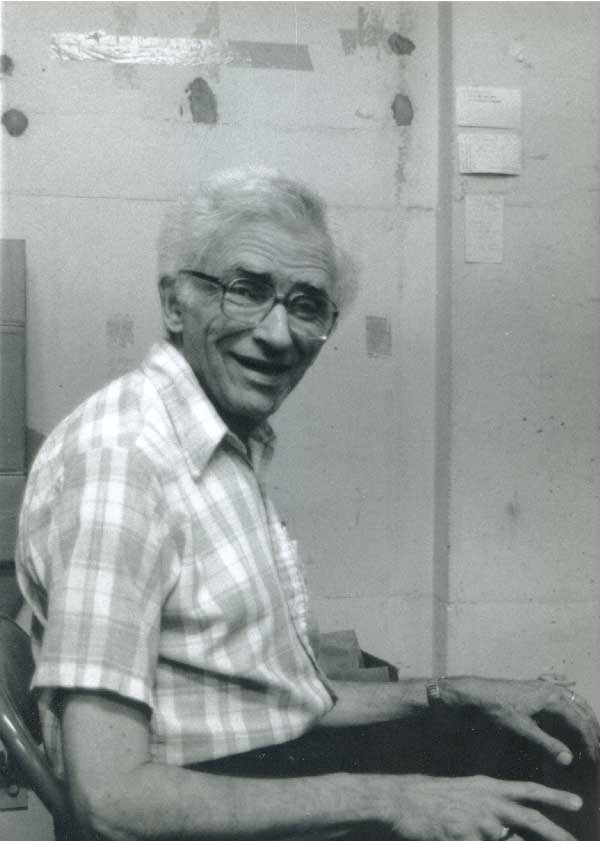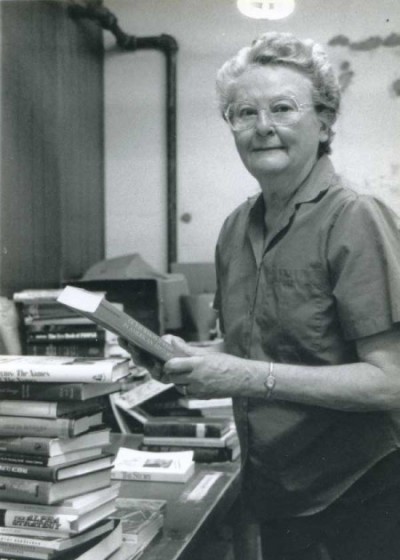 Hugh and Margaret McCausland (pictured) loved the library and were happy to be involved with the Friends. It was not a surprise to those who knew them that they would leave their estate to benefit the library through The Library Foundation. What a wonderful way to remember them than to have their gift provide this brand new bookmobile to our library filled to the brim with brand new books that will serve the community for many years to come," stated Becky Holmquist at the grand opening. "The Library Foundation is excited that last year the
Capitol Federal
® Bookmobile Literacy Partnership brought about the new bookmobile "Sherlock". And now, thanks to the McCausland's, we have the "Alice" bookmobile. Be sure to watch for the "Alice" as it hits the streets, filled with brand new books and other wonderful things for people to check out and enjoy. The Library Foundation is in the process of fundraising for the next vehicle which will be designed to be a fun, interactive play-based environment that will focus on helping develop skills necessary for kindergarteners to succeed in school.