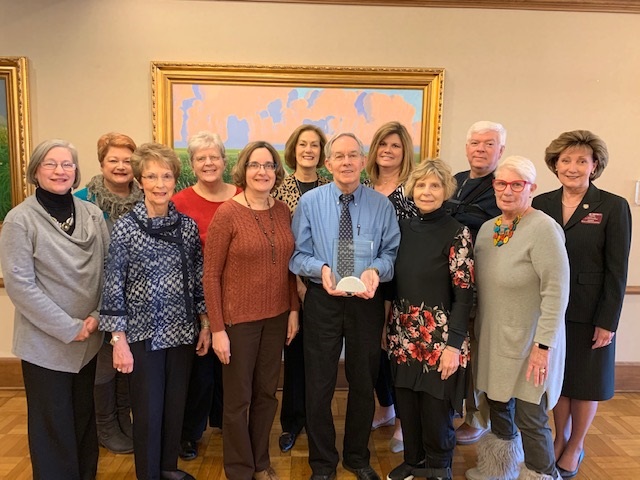 Congratulations to Jerry Reed for being selected 2019 Outstanding Volunteer Fundraiser by the Topeka Chapter of the AFP today. Jerry was nominated by The Library Foundation for his longstanding support and volunteer work at the Topeka & Shawnee County Library. He was joined at the luncheon by his wife Diana, daughter Barbara and library foundation board members.
Jerry volunteers several days a week for the Alice C. Sabatini Art Gallery. He also served a number of years on the Friends of the Library board and retired after serving years as the volunteer treasurer with the Friends. He is a Wilder Society member of The Library Foundation which is the foundation's planned giving society.
Most recently Jerry made a significant pledge for a naming opportunity at the Alice C. Sabatini Art Gallery. The Jerry and Judy Reed Studio, to be named after him and his late wife Judy, will be focused entirely on art creation, including the potential for multi-day projects and artists-in-residence opportunities where local artists can demonstrate their craft and teach classes as well. The Reed Studio is currently under construction along with major renovations to the Alice C. Sabatini Gallery. It is due to open next spring 2020.