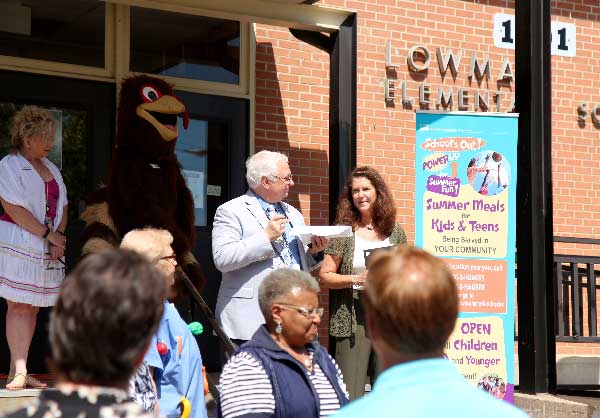 The library is partnering with Lowman Hill Elementary (1101 S.W. Garfield Ave.) and USD 501 to provide free meals to children one to 18 years of age through a program of the US Department of Agriculture (USDA), Harvesters and the Kansas Department of Education.
The program, announced by the library's CEO, Rob Banks and Darlene Barnes, regional administrator for the USDA at the official kick-off on June 5 (pictured), ensures children continue to receive nutritious meals when school is not in session. Meals are open to children under 18 and are provided through the school district and served by staff and volunteers. Free lunches are served Monday through Friday from noon to 1:00 pm at Lowman Hill Elementary. The library's community impact goal is to ensure that every child in Topeka and Shawnee County is ready for kindergarten."Our efforts this summer are aligned with our impact goal," said Rob Banks, the library's chief operations officer. "A hungry child can't learn and retain like a child who is fed." 
Read the Capital-Journal's coverage
. The library's bookmobile staff are also serving shelf-stable meals provided though Harvesters to kids all summer on our AdventureMobile. 
See the AdverntureMobile schedule
.